It is our desire to provide for you products of the highest quality and purity, whether these are used for health problems, for preventing future health issues, or simply taken to ensure we have the energy and vitality that we all need to enjoy each day. We are all living longer and it is paramount that as we do, we should continue with great health throughout our lives. We deserve to feel and look good at each stage of our lives, right from our youth to our golden years.
Keeping your body strong, trim and full of vigour, and the mind sharp and alert will give you a better, well balanced life and lifestyle.
Highest Herbs are proud to present Dhanwan Herbs - a selected herbal range of, mainly, Ayurvedic herbs. These herbs have been used successfully for centuries in India, and are used for many different health disorders, along with herbs that can be used for maintaining good health, longevity and vitality.
Most of our herbs are organically grown using fresh high quality herbs which are all tested by the Soil Association and are EU approved, giving quality assurance to all our products, as well as giving confidence to our customers. All our herbal products are suitable for Vegetarians and Vegans as we only use Vegetarian capsules.
We are based at our Herbsville shop in Leeds Kirkgate market where we sell a wide range of herbal products. We have over twenty years' experience of herbal medicines and offer a free consultation where we can discuss all your health needs. Please pop in or email This email address is being protected from spambots. You need JavaScript enabled to view it..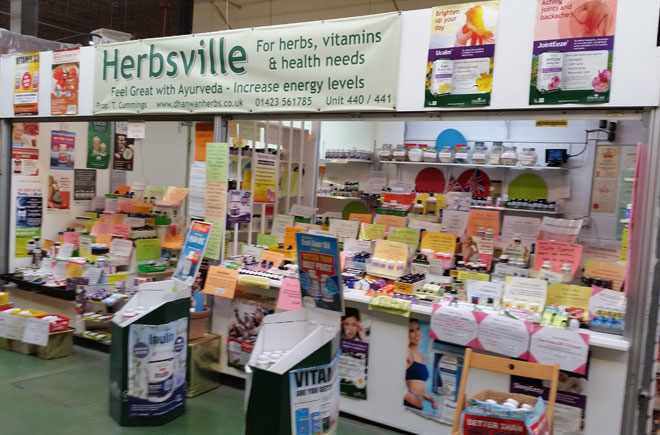 Herbsville radio advert on Stray FM.
Tommy Cummings on Ayurvedic herbs:
Ayurvedic medicine is effective and can assist by prescribing the correct herbs to bring balance to any imbalance in The DOSHES.